In this post we have compiled a list of questions and answers based on the most asked questions by travellers who are researching Raasay online.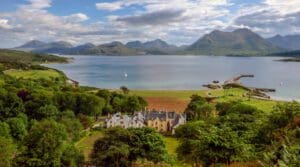 "Can I visit Raasay?" – Yes! You can visit the island via the ferry that departs form Sconser on Skye. Check the Calmac website for the appropriate ferry timetable for the time of year that you are planning to visit. You can visit as a day visitors or stay over in one of our 21 bedrooms.

"Can you drive on Raasay?" – Yes! There are not many roads on Raasay but you may need a vehicle if you don't cycle and you plan to explore the North of the island or some of the more out of the way spots.

"Is Raasay inhabited?" – Yes! There are around 170 residents that live here on the island.

"Who owns the Isle of Raasay?" – The island is not owned by any one party. The island has areas owned by the forestry commission, independent crofters, other private owners, community organisations.

"Are there any bars and restaurants on Raasay?" – Currently there is a restaurant and bar at Raasay House Hotel.

"Is there a petrol station on Raasay?" – No, so please make sure you fill up before coming over. The nearest filling stations are at Broadford or Portree on Skye (both 20 mins from the Sconser ferry terminal)

"How big is the Isle of Raasay?" – The island is 14 miles by 5 miles and has a an area of 62.31 km². This is just a little smaller than Manhattan Island in New York although the population there is around 1.5 million more than the Isle of Raasay population.

"Where do I get the Raasay ferry from?"– The Raasay ferry leaves from Sconser on Skye. The ferry takes about 20-25 minutes, there are 9 ferries a day except on Sundays where there are only 3.

"Do I need to book the Raasay ferry?" – No, just make sure you are in the queue about 10-15 minutes before the ferry is due to depart. You buy your tickets on the ferry.

"Does the Raasay ferry take card payments?" – Yes

"Is there an ATM on Raasay?" – No, there isn't but you can withdraw money from the Post Office.

"Is there a supermarket on Raasay?" – No, however, there is a great community owned shop called Raasay Community Stores. There is also a Post Office within the store where you can withdraw money as you would at an ATM.

"Is Raasay part of the inner Hebrides?" – Yes, the Isle of Raasay is part of an archipelago of islands which make up the Inner Hebrides of Scotland.

"Is Raasay the same as Rothesay?" – No, they are not the same, Rothesay is a wee town on the Isle of Bute

"Is Dun Caan a volcano?" – It's not a volcano but is volcanic in origin and is comprised of Basalt.

"Where is Raasay?" – The island of Raasay lies nestled between the Scottish mainland and the Isle of Skye. This unique position offers visitors to Raasay arguably some of the best views in Scotland.

"Is Dun Caan a Monroe?" – No, Dun Caan is 1771.65 feet high whereas Munros are 3000 feet or more high.

"What do people who live on Raasay do?" – The main employers for the Raasay population are: Raasay House Hotel, Raasay Distillery, Raasay Community Stores, Caledonian MacBrayne Clyde & Hebridean Ferries. There are also some independent businesses such as those making jewellery/gifts, a sawmill, building contractors, crofting of course and more.

"What is the top rated hotel on Raasay" – Raasay House Hotel is rated number one on TripAdvisor.

"Is there any cell reception on Raasay?" – Yes, the mobile phone or cell signal on Raasay is really quite good in most areas.

"Was the UK TV show SAS Who Dares Wins filmed on Raasay?" – YES! Raasay was the location for seasons 5 & 6 of this hit TV show and for seasons 2 & 3 of Celebrity SAS Who Dares Wins (both filmed in 2019 and 2020). Raasay House Hotel was used as a base of operations for the crew in both instances.