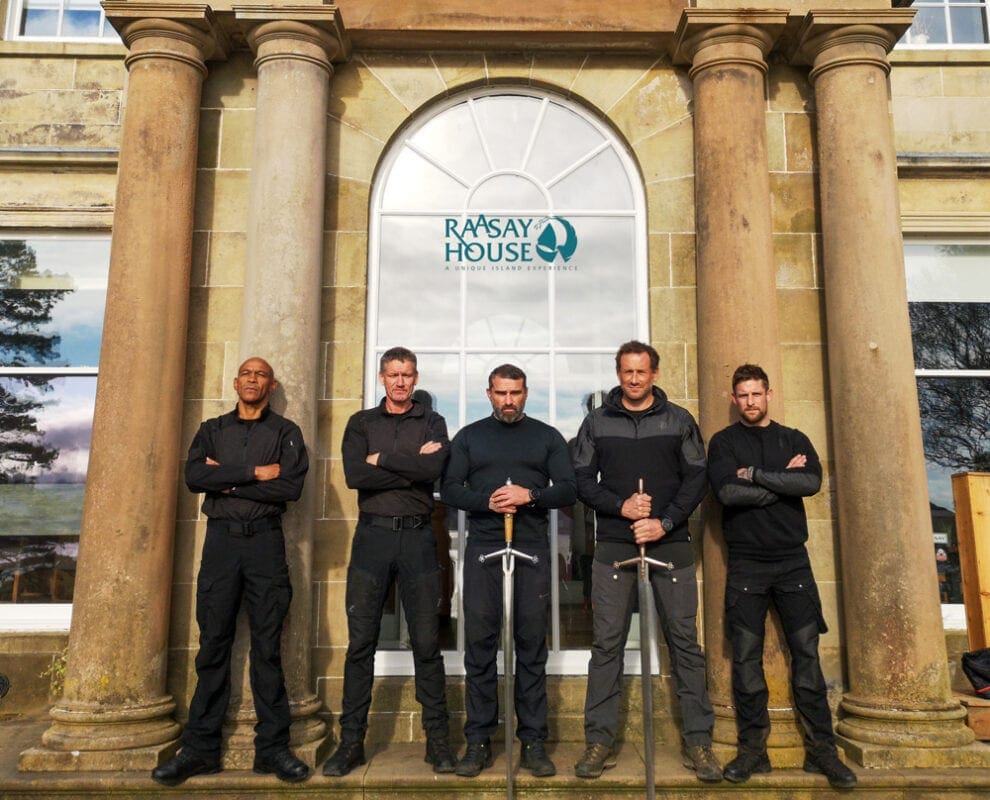 After two very successful SAS: Who Dares Wins seasons last year which saw contestants fighting for their survival right here on the Isle of Raasay, we were thrilled to welcome Minnow Films back again to film season 6 last autumn. As it had been in 2019, Raasay House was again used by the film crew as the main hub where meetings could take place, equipment could be charged and looked after, meals could be eaten and where the crew could unwind and recharge when some downtime came around.
Covid Free "Bubble"
As with many businesses, 2020 was a very difficult year for us. With around 85% of our usual revenue gone we were delighted when Minnow Films contacted us once again about bringing SAS Who Dares Wins back to the island and to Raasay House Hotel. Raasay House had been closed since March and we had chosen to remain closed even after the July opening of hotels came around. With a largely elderly population and limited medical access we just couldn't risk bringing untested guests into our small island community. We decided to remain closed and to cancel any bookings we had. When SAS Who Dares Wins enquired to book it was on the basis that they had a rigorous Covid prevention policy in place managed by their private medical team. This was the perfect break we had been waiting for amid a desperate year for the business. Knowing that all crew members would be Covid free and could exist in a special covid free bubble with our staff for the duration of filming was a very reassuring prospect. Our own staff team had to be tested and then go into isolation, some even isolating away from their families and then staying away from home in the bubble for the duration of the shoot. This significant booking allowed us to end the year on a happier note and in a better position to face what 2021 would bring. Thank goodness considering that our planned opening in February is only happening now….in the latter half of May!
The bubble system which covered our team, the crew and recruits protected our island community and allowed us to offer a relaxed and informal place for the crew to feel at home away from home. The crews were shooting 24 hours a day in challenging conditions and it was wonderful to be able to provide a base where they could recharge their batteries.
Spanner in the works
Just after the film crew arrived and started to settle in we heard the news that hotel pubs and hotels in our area were to become subject to a 10 pm curfew. This was a concern for us because crew members working long shifts and finishing at odd hours still needed to take dinner and refreshments sometimes late at night. We knew that our special situation was nothing like the usual situation serving the general public so we felt we should be exempt.
We contacted our local licencing office and outlined our rather unique situation. Yes, we have licensed premises, but all of our guests and staff were in a covid tested bubble, essentially making them the same household, we couldn't see how the rules for public opening should apply. Our local licensing office was very helpful and put us in touch with a fantastic solicitor from TLT solicitors who agreed to look at our situation straight away. We began working with him to present our situation to the Scottish government, which was that the hotel was only in use for this one private group as accommodation and a workplace canteen. During this time while gathering our information for an exemption for the 10 pm rule another more serious spanner was thrown into the works, all licensed premises must close at 6 pm. This would mean crew wanting to come back for dinner after 6 pm would have to sit outside or in their rooms to eat a takeaway, not ideal after being out in the West Highland October weather for 12 hours. Our solicitor gathered details of our Covid free bubble, risk assessments and many other documents and presented our case to the powers that be. We were over the moon when we heard that the exemption had been granted and that we would receive a letter allowing us to cater properly for the crew.
Raasay House SAS Who Dares Wins Safety Boat
For the crew it's real physical work, hiking up and down barely accessible escarpments, lugging heavy cameras and other equipment around, standing in a dry suit in the sea filming whilst getting blasted on the face with ice-cold waves, getting absolutely drenched and blasted by the highland winds at practically all times. When you see the recruits on the show going through hell, spare a thought for the team behind the scenes who definitely deserve some high praise as well. We had a little taste ourselves of what this kind of work involves while providing extra safety support in our RIB.
As we had done in 2019, we provided an extra boat for some of the sea and beach activities in 2020. With a show like SAS WDW where you have the most challenging locations, conditions and activities, the amount of behind the scenes preparation and safety support is huge. We were working extremely close to the action carrying the dedicated medics from 'Remote Trauma' while they closely monitored the safety of the crew and recruits. Despite the long hours, waiting around, wet and cold conditions this was such a great experience for us. Imagine bobbing around in a RIB with all the action going on around you! Very cool indeed!
TV and Film in the time of Covid
The fact that so many films and TV shows have been able to keep filming during the pandemic is largely due to these bubble systems where the crew are tested and isolated and then can work together freely during the shoot. Our location coupled with the fact that you can have exclusive use of Raasay House does make us a great option for TV and Film clients, even more so since Covid. We have seen an increased level of enquiry from this type of client and we hope that this trend continues. We have thoroughly enjoyed working with Minnow Films these past 2 years. Lots of fun moments like the one captured in the main image above. This was the moment when our founding director, Lyn, introduced the DS to a couple of her favourite swords! Yes there's never a dull moment here, that's for sure!
No Spoilers
Unfortunately, we can't give you any tips on what happens in this series but do we hope that you are as excited as we are to see Raasay back on our TV screens for the second year in a row.
You can watch the first episode of SAS: Who Dares Wins (Location Raasay & Skye) on Channel 4 at 21:00 tonight.