Raasay House Hotel is a fantastic place to work. We are a happy, friendly team who support each other and make time for team events.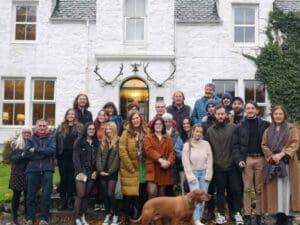 About Us: A unique island hotel and outdoor activity provider. With our roots in outdoor activities we have evolved over the last 35 years into a highly rated hotel & activity provider with a good reputation for providing a range of services at a high standard. We offer experiences from half day kayaking sessions to relaxing stays in deluxe rooms and lots in between. We are a family hotel operating in a beautiful tastefully renovated country house overlooking some of the most stunning scenery you will see anywhere in Scotland. Our guests rave about our food and our staff. If we get something wrong we listen to our guests. We are constantly looking for ways to improve and provide an even better experience to the thousands of guests we welcome to this unique Scottish island every year.
We have 20 bedrooms and we can sleep 60-70. Our style is relaxed, welcoming and friendly. We offer high quality rooms, food and activities delivered in a warm and unstuffy manner.
In the daytime we serve food to 30-60 covers, in the evening we serve 80-125 covers, breakfast 30-70 covers and staff food for up to 30 staff.
Our food is Scottish, with good vegan and vegetarian options, plenty seafood and local produce.
Work-Life Balance
We know that hospitality has quite a bad reputation for long hours and a poor work life balance. Following the pandemic and Brexit we have begun to reassess our operating hours and our ways of working to better suit our workforce. We understand that couples or friends would like matching shifts so we always endeavour to make this happen.

In 2022 we were closed certain days of the week which allowed more time off for relaxation and downtime.
We will be continuing this into 2023 and beyond with all Sundays and a lot of Mondays being closed days. This means that most staff have matching days off and the Sunday half day crew who serve breakfast and complete check outs then has Monday and Tuesday off.
Benefits for all Staff
Share of tips- all departments
Personal and friends and family discount on rooms, food and drink (rooms 25%, food 30%, drinks and sweets 15%, shop gifts 30%)
Free meals on shift
Free outdoor activity sessions & bike hire
Subsidised accommodation in a shared staff house or a cabin on site
Subsidised Staff Accommodation – a chance to save
Our staff accommodation is subsidised so the cost of living is very low here. Accommodation will either be in a wooden cabin on site or in terraced house in the main village oft Inverarish. All accommodation has high speed internet and all bills are taken care of. This coupled with that fact that you have very little to spend your money on means it's relatively easy to save money here.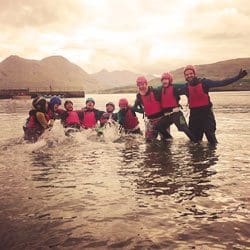 Free Meals
We provide a basic meal package for our staff consisting of 3 meals a day. Team members can supplement this by purchasing any extras at the community shop or over at the coop on Skye.
***Right to work in the UK
All candidates must be able to demonstrate that they are legally allowed to work in the UK before your application will be considered. Please DO NOT APPLY if you cannot provide documentation right now that shows you currently have the right to work in the UK***
Holidays & Breaks
Breaks: 30 Minutes unpaid break every day you work more than 6 hours
Holidays: Statutory (28 days p/a)
---
Raasay House Hotel Jobs for 2023
We are now recruiting for the following positions with start dates in March/early April:
Head Chef
Sous Chef
Hotel Manager
Bar & Restaurant Manager
Chef De Partie x 3 (from the end of March 2023)
Breakfast Chef x 1 (from the end of March 2023)
KP x 2 (from the start of April 2023)
Housekeepers x 2 (from the start of April 2023)
Waiting x 5 (we need a few people from April 1st)
Bar x 1 (from the end of March 2023)

How to Apply
Please click here and complete an application form.