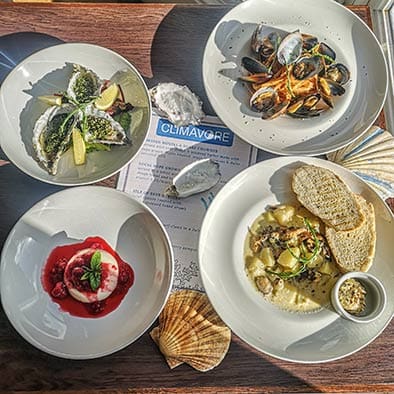 Becoming CLIMAVORE explores the gap between the appearance and the reality of salmon—their inability to escape intensive farms. For this UK-wide project, 21 museums have removed farmed salmon from the menus of their cafés and restaurants, and introduced CLIMAVORE dishes made with ingredients that improve soil and water quality, and cultivate marine habitats. This move continues our multi-year collaboration with restaurants in Skye and Raasay since 2017.

from http://www.cooking-sections.com/Becoming-CLIMAVORE
Raasay House Hotel & CLIMAVORE
In 2017 we were approached by Atlas Arts on Skye about an exciting project which focused on the negative impact of salmon farming on Scottish shores and which looks at sustainable ways to reconnect with tidal produce.
CLIMAVORE asks "how do we eat as humans change climates?"
As a business with a strong relationship to our natural environment, especially the marine life we are extremely concerned with the impact of fish farming in the area and about how our changing climates will affect local marine life. We had previously had a very positive experience working with Atlas Arts on the Patterns of Flora project which you can see here in Raasay House so we were delighted to get involved in this. The main element was a tidal oyster table in Portree Bay where guests could dine on a special menu featuring tidal produce right there in the environment where it came from. For our part, we produced a CLIMAVORE menu and removed all farmed salmon from our regular menu. We used local mackerel and hake where we once we used salmon. It's four years on now and we have not put salmon back on the menu.
In 2018 following the success of CLIMAVORE Cooking Sections, we went a little further into the project where we not only produced a special menu but we had the pleasure of taking on an apprentice from Portree High School to prepare the dishes. 20 students from Portree were given the opportunity to complete a course using tidal produce and then to go on to complete a placement in one of the participating restaurants like Raasay House Hotel.
Fast forward to 2021 and CLIMAVORE has grown and spread across the UK with many museums and restaurants taking the CLIMAVORE message on board as well as changing the produce they use on their menus. The project has now gained even more momentum and recognition and it has been shortlisted for the very prodigious 2021 Turner Prize. We are launching our very own CLIMAVORE menu this evening which will run along side or regular menu. Please click here for a preview.
We wish CLIMAVORE all the best for the Turner Prize and we are very thankful to have been given a chance to be involved and to open our eyes even further to the opportunities and challenges of the changing shores around us.
From today, you can taste CLIMAVORE dishes at:
Aberdeen Art Gallery
Ashmolean Museum, Oxford
Baltic Centre for Contemporary Art, Gateshead
BFI Southbank, London
Herbert Art Gallery & Museum, Coventry
Holburne Museum, Bath
London Transport Museum
Manchester Art Gallery
Royal Botanic Garden Edinburgh
Royal Museums Greenwich
Science Museum, London
Science and Industry Museum, Manchester
Serpentine, London
Tate Britain, London
Tate Liverpool
Tate Modern, London
Tate St Ives
The Whitworth, The University of Manchester
Turner Contemporary, Margate
Victoria & Albert Museum, London
Wellcome Collection, London
And in Skye and Raasay:
Edinbane Lodge
Eòlach
Isle of Skye Baking Company
Loch Bay
Raasay House Hotel
Rosedale Hotel
Scorrybreac
The Ferry Inn
Three Chimneys
Visitors can taste a CLIMAVORE meal and collect one of the postcards from a twelve-part mosaic at participating restaurants filled with CLIMAVORE stories and recipes.